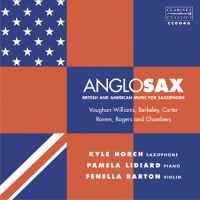 Kyle Horch's new solo recording, AngloSax, features music by British and American composers. Born and raised in the United States, Horch studied with Frederick Hemke at Northwestern University in Chicago and received a BP North America scholarship to pursue postgraduate studies at London's Guildhall School of Music and Drama with Stephen Trier. Since then, he has emerged as one of the UK's leading concert saxophonists, having garnered prizes at solo and chamber music competitions including the Jules de Vries International Alto Saxophone Competition, the Park Lane Group Young Artists/20th Century Music Platform, and the Coleman Chamber Music Competition. Since 1987, Horch has collaborated with pianist Pamela Lidiard, concertizing throughout Britain and abroad. Currently living in London, Horch enjoys a busy performance schedule and serves on the faculty at the Royal College of Music. Drawing on his experience as a saxophonist in the United States and Britain and his knowledge of repertoire from each country, Horch assembles on AngloSax a program that he writes, "focuses especially on music with a strong sense of place, with works that are often connected by a thread of folk influence or pastoral imagery."
And imagery is what Rodney Rogers' Lessons of the Sky, the recording's opening track, is all about. Rogers writes of the work, "the composition's title suggests that by observing the sky—open, alive, seemingly infinite—we may gain knowledge. The music uses a collection of motives presented in a quick and ever-changing rhythmic background to express the energy and quixotic nature of our atmosphere." Rogers evokes the sky's expansiveness by creating a thick texture with the piano pedaled liberally and soaring soprano saxophone lines. Pianist Pamela Lidiard supplies a beautiful patina of sound, which Horch does a fine job of dipping in and out of, punctuating certain figures with a very assertive articulation. In the work's calmer middle section, Horch's tone blossoms in the upper register. Despite a few intonation gaffes, Horch handles most of the work's inherent intonation difficulties admirably and gives the piece a passionate and committed reading overall.
Written in 1926, the Six Studies in English Folksong by Ralph Vaughan-Williams express directly the folk influence and pastoral thread Horch weaves through this album. Originally scored for cello and piano, the Six Studies were later adapted for many instruments, including a version for saxophone and piano, which has been embraced by the saxophone community. Horch's treatment of each tune is simply stunning. He is able to shape each line beautifully while walking the fine line between involvement and detachment. Horch brings this approach of studied detachment to each movement, never forcing the line, playing with just the right amount of sentimentality, and letting the music stand on its own. With Vaughn-Williams' Six Studies, Horch delivers his most convincing and beautiful performance on the album.
Following the simple and tuneful melodies of the Six Studies, the aggressive opening of British composer Michael Berkeley's Keening comes as a bit of a jolt. Rightly so, as the subject of Berkeley's work is a far cry from Vaughn-Williams' rustic folk connotations. Berkeley says of Keening: "the title comes from the Irish word 'caoin'—to utter the keen for the dead, to wail bitterly. The music . . . is concerned not only with the grief experienced over loss, but also with the sense of rage that often attends it." The work unfolds much like one's emotions might after the death of a loved one. The piano's low rumblings give way to a forceful saxophone entrance, which expands into aggressive spinning lines. Horch wails at the peaks of phrases. Following this violent opening, the music gradually begins to wane in intensity. The angry and aggressive phrases, which characterize the beginning of the work transform into sorrowful laments. Again the music continually slows down and usher in portamenti in the saxophone part, suggesting a sense of resignation and conclusion, or lack thereof.
Elliott Carter composed Pastoral in 1940 for English horn and piano, but later made the work available for performance on viola, clarinet in A, or saxophone. Written early in Carter's career, the work is blatantly tonal, more reminiscent of his Canonic Suite (1939) for four alto saxophones and miles away from the atonal masterpieces which have made him famous (or infamous) in the modern musical canon. Yet Horch surely had his reasons for choosing such a work of Carter's. For one, Pastoral is not often played. Second, the work sounds quite folk-songy, playing to Horch's over-arching theme as well as his skill at crafting wonderfully shaped phrases. Indeed, Horch excels with his lyricism. He infuses Carter's lines with passion, especially in the saxophone's upper register and shows great sensitivity to the subtle changes in character that emerge throughout the work. By including Pastoral, Horch shows a perhaps little-known musical side of Elliott Carter.
While Carter's melodic gifts may today be long forgotten or far overshadowed by his complex atonal writing, the same cannot be said of Ned Rorem, an American composer who has made his career on melody and song. Picnic on the Marne was commissioned by Concert Artists Guild for saxophonist John Harle, who premiered the work at Carnegie Hall's Weill Recital Hall on February 14, 1984. Inspired by an excursion Rorem took to the southeastern suburbs of Paris in the summer of 1956 with another individual, Picnic on the Marne is a programmatic work that depicts musically various episodes that happened between the two that afternoon. The first movement gives Horch his first real chance on the album to showcase his fine technique. But Horch's real gift, like Rorem's, is his penchant for melody. Like his performance of the Vaughn-Williams Six Studies, Horch is again able to detach himself from the music just the right amount to great effect. In the third movement, "Bal Musette," he brings a wonderful charm to music that borders on saccharine sentimentality. While handling character changes in Carter and Vaughn-Williams quite well, Horch comes up a bit short in Rorem's fifth movment, which depicts a "tense discussion." Here, although handling the technical passages admirably, he fails to assert convincingly the sudden emotional changes in the music.
Evan Chambers' Come Down Heavy! for saxophone, violin, and piano serves as the American counterpart to the Six Studies by Vaughn-Williams on this album, although for Chambers, folksongs mean something different: "To me, folksongs are not quaint, naïve or innocent, as they've often come to be misrepresented—they are powerful, sometimes gritty, bitter and ironic, full of the sadness and longing of life." The highlights of this performance are the inner movements of the work. Violinist Fenella Barton really steals the show in the second movement. She evokes the sadness Chambers imbues the tune in this setting as a "mountain lament" and plays with flawless intonation. Horch fills his accompanimental role in this movement well, allowing Barton's sensitive and stirring playing to take center stage, as it should. As one might expect from the rest of the recording, Horch handles the tune in the third movement expertly. The ensemble between Barton and Horch is exceptional here. In both the first and final movements, Horch seems a bit out of his element, revealing his trouble changing to an aggressive character while maintaining integrity of sound, an unfamiliarity with more idiomatic American playing styles like jazz and the blues, and an unwillingness to commit to the wildness, abandon, and intensity Chambers demands in places. Coupled with a few glaring ensemble slip-ups, Come Down Heavy! never really gets going.
Kyle Horch is a fine saxophonist with a knack for lyricism and expression. He shares these talents with us throughout each work on AngloSax.
Kyle Horch. AngloSax © 2003 Clarinet Classics CC0046. Clarinet Classics, 58 Crescent Road, Upton Manor, London E13 OLT, UK. enquiries@clarinetclassics.com. www.clarinetclassics.com. Kyle Horch, saxophones; Pamela Lidiard, piano; Fenella Barton, violin.